Frequently Asked Bridal Questions
How far in advance do I need to book services?
---
We don't have a cut off time. We do, however, book up very quickly! I recommend reserving your date as soon as you can. This will ensure our team will have enough time to accomodate all of the services you are looking for.
---
When should I get a trial done, and what is the fee for a trial?
---
This is a great question! Belleza recommneds you do your hair and makeup trial about 2 months prior to your wedding day. By this time your hair length and skin tone are very close to what it will be for your big day. We also prefer you do your hair and makeup trial at the same appointment so you and your Bridal Team Lead can see your finished look and make any changes at this time. Don't forget to bring you veil or any decorative hair pieces to your trial! We do not require you to book with us before you have a trial. We welcome you into our salon to meet our stylists and see how you like things before you commit. Just remember we cannot hold any date or time without the proper paperwork and the 25% deposit. Trial fees are the same price as the day-of service price. Depending on what you are wanting to try, the fees vary. Up to a 60 minute hair trial reservation is enough time for about 1 hair look. If you know you will want to try out 2 looks, we recommend reserving time for the 90 minute hair trial option! Keep in mind we do have a follow-up hair trial option for a discounted price of only $49 should you decide to change up your look.
---
What does it cost for on-location services and how far do you travel?
---
We know on a busy wedding day, sometimes it's just easier for us to come to you! Our travel fees vary based on the following: -Distance of the location -Timing of services -How many serivces you are requesting Our base travel fee is $125 for 2 stylists for up to 2 hours on location any distance within 15 miles of Belleza Salon. Any additional time or stylists will have additional fees. Feel free to reach out for a customized quote, I am happy to help!
---
How does the booking process work?
---
We strive to make the booking process as easy as possible, after all, this is the fun part! Once we have determined our availability, we will need the Bridal Reservation Contract and Reservation Form filled out, signed and sent back. (Unfortunately we cannot move the process forward without all forms and items filled out properly.) You will then receive a link to an online invoice through PayPal. This will show everything you have requested on your paperwork itemized as well as a link to pay the 'minimum amount due' which is the 25% deposit amount we require. Once I see the deposit has been paid I will book your scheudle and reserve your date and time! Easy as that!
---
How much is it to hold my date and when does everything need to be paid?
---
In regards to reserving your date and time we require a 25% deposit of your total day-of services. This is held in your account and then used towards your bottom line. The final balance is due a week prior to your wedding day. This ensures we aren't dealing with any money stuff on your special day!
---
Is it okay if I am not paying for my whole party?
---
Of course! We will put all of the services you have requested on the same invoice. We do require the 25% deposit to be paid in full through one transaction. After that, I can add your bridesmaids to the invoice so they can see what they owe you for their services and make payments on it. Note: Your deposit does go to your bottom line, so the last person to make a payment on their services will see "This Invoice Has Been Paid," because it has! This means they will just owe you for thier services and not PayPal. -OR- Many times our brides opt to collect money from their bridesmaids and then take care of the payments themselves to avoid any unnecessary late fee's.
---
I have a big bridal party- can you accomodate us?
---
The more the merrier! We have a large Bridal Team who have been trained in both makeup and hair. We strivce for exellence and efficiency and want to make sure your day is stress free, fun and special!
---
Can you accommodate more than one wedding at a time?
---
Yes! Our Bridal Team is large and we can accommodate more than one wedding at the same time. Often times we have a team out on-location and maybe a few weddings in the salon. We do only have 1 Bridal Suite, so if you are interested in reserving that book now!
---
I don't know how to use PayPal, can I pay in the salon?
---
For our busy Bridal Business we only allow payments to be made online. We have learned that this allows for clear communication with what services you are reserving, what has already been paid, and what is still owed. We can also easily adjust services if changes come up, and you will be updated everytime this happens. You also do not need to have a PayPal account to make a payment. You simply click the link that will be emailed to the address provided us, and make a payment like any other online billing platform. Check out this quick video for a step-by-step tutorial on how to use PayPal.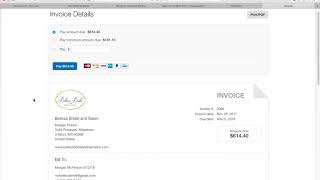 ---
I have someone who is doing my bridal party makeup services already, can you work with someone else for hair serivces? (or vice versa?)
---
Yes, no problem at all! We love to work with other beauty experts while on-location. (Unfortunately due to liability reasons, we cannot have any other service provider besides a licensed Belleza Salon Employee perform services inside of Belleza.) Keep in mind: we will set our schedule for you in advance, so if your other serivce provider needs to know timing, please make sure they contact us. We base the scheudle off of the services you have requested from us and hate to see the day get stressed because of schedules not lining up.
---
I am getting married on a Sunday, do you offer services then?
---
Yes! We do open all the time on Sundays specifically for Bridal Parties. There are additional fees that will apply to open the salon. I am happy to give you a quote once I know what you are looking for specifically. (Take a look at the Bridal Contract available for download on the main Bridal Page for more information.)
---
Can I request a specific stylist?
---
Of course! Our stylists pride themselves on their work and reputation. We receive requests for specific stylists daily and will make every effort to reserve your stylist. If the stylist is already booked during the time you are needing, we will be sure to match you with an equally talented Bridal Team Lead. There is a spot on the Reservation Paperwork where you can specify a stylist.
---
When should my party and I arrive on the big day?
---
We will have everyone scheduled at specifc times, however we do ask that the entire party arrive together at the designated start time. This ensures a smooth day and no schedule glitches. There might be a quick emergency that mom needs to leave for- no worries, with the rest of your party there, our team can keep the day moving by starting on another member of your party and take care of mom when she gets back all while staying on time!
---
I have bridesmaids coming from out of town who won't be able to take advantage of the gift cards. Can I apply that to something else or can someone use 2?
---
We understand loved ones travel from afar to be a part of your special day and understand the gift cards may not be able to be redeemed by those who are not local. Keep in mind we would love to have everyone in for rehearsal and wedding weekend fun. Belleza Salon jumps at any opportunity to build lasting relationships with those who are local.
---
Can I book a trial before I decide to move forward with the booking process?
---
Absolutely! You are more than welcome to test out hair and makeup services before booking services for your special day. Just call our front desk team at 636-300-3437 and tell them you are interested in a trial before moving forward with the booking process.
---
What does the (+) mean for a listed service price?
---
The plus sign indicates that the service may cost a bit more than the base price. These prices are calculated based on the amount of hair, length of hair, or any extra service time it may take for the appointment.
---
---